WINK Kennel has come full circle!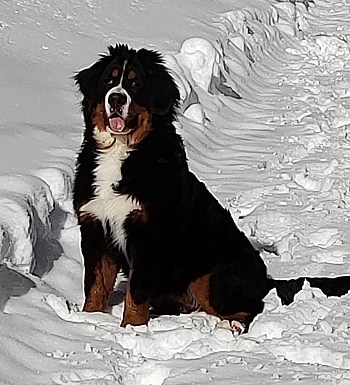 We at WINK Kennel would like to introduce to you the newest addition to WINK! This is baby River. She is not so little anymore, she is 6 months old. We finally found out that her Dad is Angus, Von Engel's Executive Choice v WINK. She is a real clown, but we love her.
WINK KENNEL
Whitney's InterNational Kennel
Specializing in Bernese Mt. Dogs Click on any picture to see pedigree. Also after going to pedigree or show picture click the "back" button to return to current page.
Welcome to our website. I am Susan McCulloch and along with my daughter Whitney McCulloch Brandon, we have had Bernese Mt. Dogs for over 28 years. We fell in love with this breed when we first set our eyes on these beautiful dogs when we were in Germany. We brought our first dog, Petra, back to the states when she was 12 weeks old, that was when we fell in love. We sent her pedigree back to Germany to get a male and about a year later we were given Phlip. The rest they say is history! My daughter and I have been raising, loving, training, breeding and showing Bernese since 1992. I am a current member of the BMDCA. Please enjoy our website as we share with you our love for this fantastic breed.