Click on any picture to see pedigree. After viewing pedigree or show picture please click the "back" button to return to current page.
WINKS' Smile At The Rain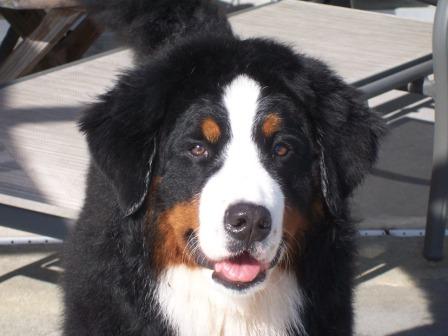 Rainy
WS 33747105 OFA Good Hips DNA profile # V623896
Major Pointed
Rainy's Show picture
Rainy is 4 years old now. She has begun her show career, with the first show being a regional specialty in Atlanta GA, where she won Best of Winners out of a very competitive Bred By Exhibitor class. We are so excited about her. We just love her, she is everything we could have hoped for with this breeding. She is very balanced with wonderful movement, nice rear angles and a wonderful temperament, she definantely got her Mom's temperament. She has a beautiful thick, dense, black coat and a nice big head. We couldn't be happier. I call her my "cute as a button girl". Look for her at future shows. Rainy just had her first litter, they are now almost 4 months old. Look for her only daughter in the next couple of months. She will start learning to show at about 6 months old.
Please click on the link to see Rainy's newest babies!

WINKS' Smile At The Majestic Blue Ridge Mountains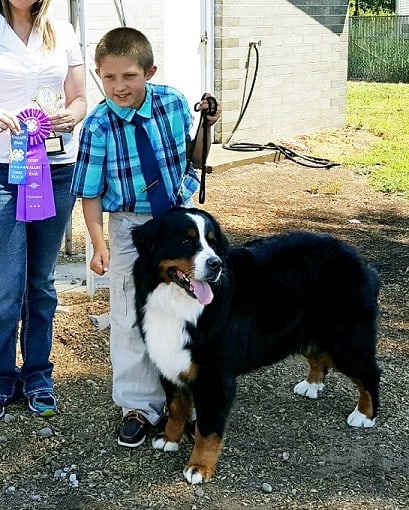 Blue
OFA Hips Good, Elbows Normal
Blue is a really nice girl from Rainy and XO. She has been a long time coming. We have been planning this breeding ever since I added Reese to our breeding program. If you have read my Breeding Philosophy, she is my first puppy from my German lines (Phlip) and Reese's lines (Rainy). We bred XO,(a Phlip great grandson) and Rainy, (a Reese daughter). She was the only girl in the litter. She is now 4 years old. She is such a smart girl. We are hoping to combine the longevity and health of my German lines with the size, beauty and temperament of Reese's line. So far I couldn't be more happy with the way she has turned out. She is bigger than her Mom, and has her Dad's sweet temperament. We love her very much. She won winners bitch at the Richmond Club show. We were thrilled. A new development with Blue, one afternoon my grandson called and said he was wanting to do dog 4-H and he wanted to know if I had a dog that he could use. I immediately thought of Blue, she is young and smart. So after a long thought process I decided to give Blue to him to use. I was sad to lose Blue but I knew it was the right decision. Afterall this is how we, my daughter Whitney and I got into showing so many wonderful years ago. Blue now lives with my grandson and his Mom Whitney and his Dad. She has been with them for 2 years now and doing fantastic. My grandson and Blue have been inseparable and working as a wonderful team. In fact he just took her to the State Fair and got an Award of Merit in Fitting and Showing and Grand Champion in Obedience. Now this second year of working together they are going back to the Washington State Fair and competing off leash.I couldn't ask for anything more. Way to Go!!!

WINKS' A River Runs Through It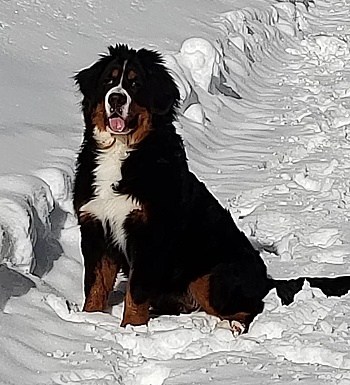 River
River is our newest addition to WINK Kennel. She is 8 months old and a real spitfire! Her Dad is Angus and her Mom is Blue. She was the only one in the litter but very special to WINK Kennel. We love her and are hoping for great things from her. First and foremost longevity. Next, we are hoping for a sweet gentle and confident personality and of course we want great conformation and intelligence. We will keep everyone updated with pictures and information as she grows.
Copyright DomainNameSanity.com LP. All rights reserved.